Christmas Shopping Planner 2020
Written on November 12th, 2020
---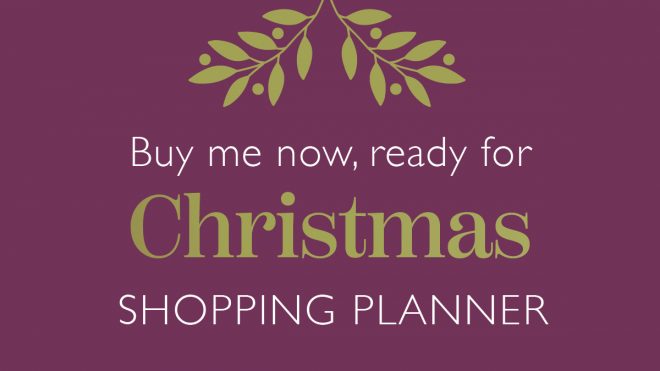 Our Christmas Shopping Planner 2020 is filled with key arrival dates of your festive favourites into our stores, as well as great offers, to help you get organised for the big day! As always, our fantastic range of craft beers, carefully sourced spirits and our award-winning range of wines are already well stocked, with plenty of low and no alcohol options available too.
If you're wondering if a particular Christmas book product will be going into store, just look for a date in a circle in the product description. If you see one, that's the date it will be in store — if there is no date in a circle it's available for pre-order only.
In Store Now
Christmas gifts (from novelty gifts to delicious food and drink sets), Christmas confectionery tubs and gift boxes, biscuit tins and tubes, advent calendars, puddings (both Christmas and options for those who don't like Christmas pud), frozen turkeys, frozen nut roast, selected Lathams frozen desserts and cakes, poinsettias, Christmas crackers (NEW for 2020, discover our eco-friendly crackers), Christmas crumpets, Bucks Fizz, Mulled Wine and a full complement of basic essentials, such as cranberry sauce, goose fat, foil and stuffing.
Some of our favourites and key offers:
Booths Mince Pies, 4 Pack £1.25 of 2 for £2
We Love Cake Gluten-Free Mince Pies, 4 Pack £2 (Vegan)
Booths Festive Bites and Slices, 2 for £5
NEW Premium Eco Berry Crackers, 8 Pack £12
Booths Christmas Coffee, 227g £3.50
NEW Fentimans Mixology Gin Gift Set, £10
NEW Grandma Wild's Festive Biscuit Tubes, 200g £4 or 2 for £6
Hawkshead Relish Company Christmas Gift Tube, 3x120g £7
Battistero Panettone Gift Tin, 1kg £7.50
Poinsettias £6 or £8, Locally grown by Arden Lea nurseries in Hesketh Bank
2 for £8 on Booths Bucks Fizz and Mulled Wine, Mix and Match Ends 03.01.20.
Lathams Chocolate Profiteroles, 36 Pack £13 (Frozen)
Lathams Delight Medley of Individual Desserts, 4 Pack £8 (Frozen)
Booths Late Bottled Vintage Port, 50cl £14.50 (Vegan)
Save £10 on Selected Whisky, Ends 03.01.21
From 25th November
Flowers from the Farm Festive Swathes.
We have a limited amount of hand crafted festive swathes from our local Flowers From The Farm florist partners, £20 each, coming into selected stores. When they're gone, they're gone!
Fellside Flower Company: Penrith
Isla and Me: Kirkby Lonsdale
The Nectar Bar: Hale Barns, Knutsford
The Flower Farm: Burscough, Chorley, Poulton, Lytham, Garstang
Petal & Twig: Longton, Hesketh Bank, Penwortham
From 27th November

Christmas trees and Wreaths.
Nordmann Christmas Trees
Pot Grown Christmas Tree £15.00
NEW 4-5ft Potted Christmas Tree £35.00
3-4ft Christmas Tree £20.00
5-6ft Christmas Tree £30.00
6-7ft Christmas Tree £40.00
Please ask a colleague at the customer service desk if you would like to view a tree.
NEW Mini Desk Tree £5
NEW Mini Potted Frosted Tree In Decorative Pot £10
Christmas wreaths from £5 – £30
Locally handcrafted and decorated by Peter H Smith in Preston.
From 2nd December
Christmas cakes
Some of our favourites and key offers:
Booths Sherry & Rum Iced Christmas Cake, Handmade by Studio Bakery, Serves 16 £18
Booths Yule Log, Serves 6 £5
From 11th December

Smoked salmon, gammon, Christmas cheese selections, prepared vegetables, party food and trimmings including fresh gravies and pigs in blankets.
Some of our favourites and key offers:
3 for 2 across selected smoked salmon packs (Freezable)
3 for 2 across selected party food (Freezable)
Booths Baking Camembert with Cranberry Sauce, Serves 2 £5
NEW Booths Prawn Cocktail, Serves 4 £9
Booths Dry-Cured Smoked Whole Boneless Gammon, Serves 13 £35 (Freezable)
Truefoods Gravies and Sauces, From £1.60 (Freezable)
Booths Pigs In Blankets, 12 Pack £3.30 or 2 for £6 (Freezable)
Prepared Festive Vegetable Packs, from parsnips to sprouts and goose fat roasties, From £3 (Selected packs are freezable)
Butlers Festive Cheese Selection, 550g £10
Booths 12 Cheeses of Christmas Platter, 720g 48 Pieces £20
Violife Epic Dairy-Free Christmas Platter, 450g £6 (Vegan and Freezable)
From 18th December

Christmas fish, festive breads, chilled desserts and food for the buffet, including pâtés and pies, selected easy cook fresh turkey joints.
Some of our favourites and key offers:
NEW Booths Tear & Share Caramelised Onion & Cranberry Bread with Camembert, 360g £6 (Freezable)
Booths Prawn & Shrimp Platter, Serves 2 £18
Furness Fish Maple & Chilli Potted Shrimps, Serves 4 £17.50 (Freezable)
Booths British Turkey Breast Joint with Gluten-Free Sage & Onion Stuffing, Serves 3-6 (Freezable)
Booths Turkey Paupiettes, Serves 2 £8 (Freezable)
Booths Three Bird Roast with Gluten-Free Sage & Onion Stuffing, Serves 10 £55 (Freezable)
Booths Roasted Parsnip, Chestnut & Butternut Squash Tart, Serves 2 £7.50 (Vegetarian and Freezable)
Booths Chocolate Melt In The Middle Pudding, Serves 6 £9
Booths Cookie Butter and Spiced Apple Cheesecakes, 2 Pack £5
From 20th December

Fresh turkeys.
Find out more about the range of turkeys on offer and discover our top turkey tips by clicking here.
Order your entire festive meal in advance to collect on our food to order website by clicking here.
All information correct at time of publication, subject to change. Subject to availability. Check before travelling.