Booths Big Wine Event
Written on October 4th, 2013
---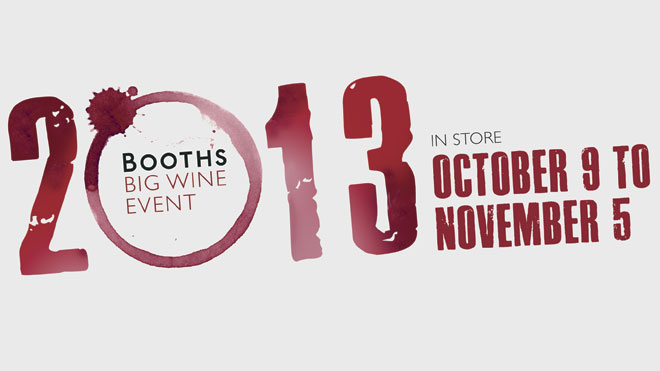 Heard it on the grapevine yet? Our biggest ever wine event starts on 9th October, and for a whole month we'll be throwing the cellar doors wide and offering our best ever deal on hundreds of our favourite wines. Our dedicated wine buyers really know their stuff, and their choices are a tantalising cross-section of the wine world's best bottles, from high scorers on the Parker Points scale to great value party wines and contemporary classics. You'll need to be quick – the Booths Big Wine Event runs until 5th November, and stock is limited – but we've got plenty of rewards, some of them sparkling.
Every time you buy six bottles during the Big Wine Event we'll give you a 5% discount and a free bottle of Prosecco Polloni DOC. If you're a Booths cardholder you'll get an extra 5% reward on top, too, stored on your card so you can add to it every time you shop. Once you reach £5 we'll send you a voucher to spend in store. The Booths card has lots of other benefits. Cardholders receive our Christmas pre-order brochure before anyone else, have access to our App and a quarterly digital magazine, and can keep track of their shopping with nifty digital receipts. You can pick one up at the checkout in store or find a temporary card in one of our wine event magazines; just make sure you get it scanned when you buy your wine and register online.
With many years in the business behind them, our wine experts are renowned for their expertise, and of course they're boundlessly enthusiastic about the special bottles they've chosen for this month's celebration of good wine. Their confidence is reflected in our guarantee. If any wine you buy from Booths isn't to your taste, you can re-cork it and return it, with your receipt, for a full refund. That makes the Big Wine Event a great opportunity to throw a party, stock up for Christmas, or have fun trying something different. Let us know what you think of the Prosecco!