Celebrate Sourdough September with Our Bells of Lazonby Limited Edition Loaf!
Written on September 6th, 2019
---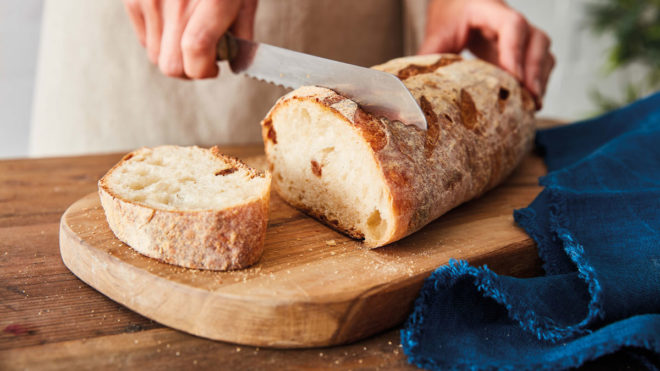 Created by the The Real Bread Campaign, Sourdough September is an annual international celebration of genuine sourdough and the people who make it. Our fabulous artisan baking partners, Bells of Lazonby, have created a special, limited edition sourdough loaf especially for us to celebrate. They are an expert team of bakers in Cumbria, who lovingly handcraft every one of the real sourdough breads that you'll find on the bakery tables in store, and this loaf is no exception.
Limited edition Rosemary and Sultana Sourdough Batard is a soft, white sourdough loaf with a chewy tangy crust, made with a bespoke blend of wheat flours from around the world and traditional sourdough ferment. Gently studded with sultanas that have been soaked in fragrant rosemary infused liquor, it's handmade over three days in a time-honoured tradition to produce a genuine artisan sourdough loaf, finished with a beautiful leaf design dusted on top to celebrate the changing season.
Perfect toasted for breakfast with butter and honey, or topped with bacon and grilled tomatoes.

Sally Kidd from Bells of Lazonby
Our Bread buyer Keith recommends trying it with a bit of cheese!
Find it on the bakery tables in store throughout September while stocks last, £2 each.
What else is on the Bakery Table from Bells?
THE 1946 £2.15 A traditional white sourdough boule, with a light chewy crust and soft tangy dough. Find our recipe for a Booths Rarebit using this lovely loaf by tapping here.
Not available at Kendal
THE LAZONBY LOAF £3.30 This white sourdough, the bigger brother of the 1946, perfect for slicing for picnics and sharing.
Not available at Kendal or MediaCityUK
OLIVE FOCACCIA £2.15 A soft tangy sourdough flatbread, studded with Kalamata Finest olives.
TOMATO FOCACCIA £2.15 Made with Italian blush cherry tomatoes, a blend of Italian herbs and olive oil.
Not available at Penwortham, Lytham, Kendal or MediaCityUK
THE HERDWICK £3.30 Made using a 50:50 blend of wholemeal and white flour, with rye sourdough and a touch of molasses.
Not available at Penwortham, Hale Barns, Scotforth, Clitheroe, Kirkby, Kendal, Chorley, MediaCityUK, Longridge, Hesketh Bank, Barrowford, Milnthorpe
THE NORDIC £2.15 Made using a white sourdough base, with a touch of rye, and aromatic caraway seeds.
Not available at Kendal or MediaCityUK
WHOLEMEAL BOULE £2.15 With wholemeal flour, roasted malted wheat flour, malted barley and rye flour.
Not available at Kendal or MediaCityUK
LIGHT RYE BATARD £2.15 With a blend of malted wheat, sunflower seeds, millet, wheat, rye barley and oat flakes.
Not available at Kendal
Read more about Bells of Lazonby by tapping here, read more about exactly what sourdough is on The Real Bread Campaign's website by tapping here, or tap the button below to find your nearest loaf!