Dug Today Potatoes In Store Now
Written on May 20th, 2019
---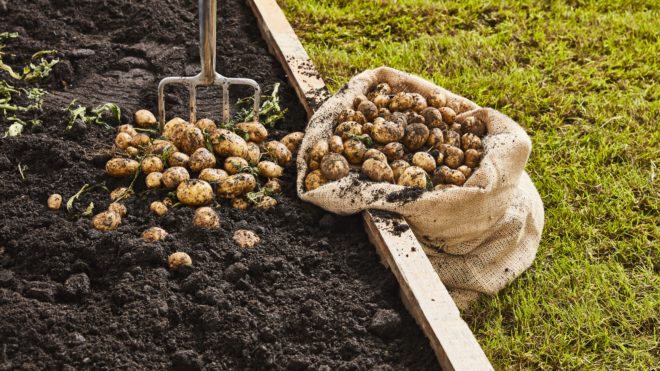 It's at this time of year that everyone at Booths spares a grateful thought for Sean Mallinson, who grows and lifts our unique Dug Today potatoes. These little beauties are dug in the early hours so that they can be our stores by breakfast time on the same day. They have a fresh, earthy taste and the flaky, delicate skins, which haven't set, can be rubbed off with a finger.
Of course, someone has to be up to harvest them, so Sean, who farms like his father did on sheltered, sandy land near Tarleton, Lancashire is in bed early during the short season. "I try to stay up as long as I can," he says, "but the wife makes me go to bed about six o' clock. We're up about 11 o' clock, finished at about half past one, we get the wagon loaded in the early hours and off they go to be in store by eight o'clock on the day they're dug. It helps that the majority of Booths stores are within a 30 or 40 mile radius – you couldn't do it with other shops."
Understandably, Sean thought that this unusual way of making an everyday crop extra-special seemed "a bit daft" when our buyers first suggested it. Now, he says, "I look forward to it. For five weeks it's a pleasure doing them. You're selling something that somebody really wants. A lot of people in our village shop at Booths, and they can't wait till the potatoes start."
Sean also grows leeks, cabbage and carrots, but the flavour of Dug Today potatoes has a special appeal for him. "The variety is Maris Bard, which very few people grow. Perhaps I'm a little bit biased but I don't think there's any better tasting potatoes. They're close to salad potatoes in size because they're so small when we dig them, but they're a lot nicer. The fact that the skins are still loose really shows the freshness of them. If you can still scrape the skins off, you know they're only 12 hours old."
Simple recipes show these uniquely fresh potatoes off to their best advantage. Anything involving butter is a winner, and they're also delicious dunked into cheese fondue or baked with olive oil and garlic, then crushed and topped with sautéed mushrooms or a fried egg with crisp, lacy edges. By the time Sean finishes lifting the crop, he's ready for breakfast. Would he go for potatoes? "I would have them, yes. Cold in a pan with half a pound of butter spread all over them, you can't get anything better."
Why not give this recipe a try with a bag of delicious dug today potatoes:
Dug today potatoes are available from all stores except Media City. While stocks last.