Jersey Royal Potatoes In Season Now
Written on June 14th, 2013
---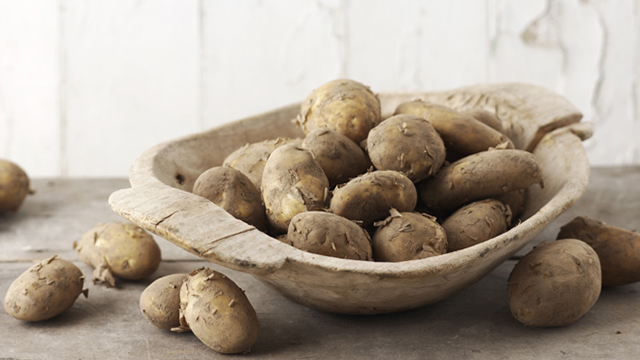 The first true taste of spring, Jersey Royal potatoes are rightly celebrated for their unique, earthy flavour and wonderful freshness. The start of the season brings a little bit of Jersey sunshine north, and is a traditional part of life on the island. Matthew Lamy is the sixth generation of his family to grow Jersey Royals, and is one of a group of farmers who supply Booths.
With his father Peter, Matthew farms land which stretches across the island from west to east. They pride themselves on using traditional methods, although of course there are limits. "We haven't changed any methods at all, really," says Matthew, "although obviously we're not horse and plough now, we've got tractors! But that's probably the only thing that's really changed."
The potatoes grown on the coastal slopes, known as côtils, are harvested first. "They're very new and flaky, so you've got to be very careful," Matthew says. "The slopes are very steep so we plough them out with a winch, and then they're picked by hand. It's absolutely lovely, a sight to see." The harvest then moves on to the flatter fields, and it's done in the cool of the early morning before the potatoes are sorted and packed for their journey to Booths.
Although harvest is the best time of the year for the potato-lover, the Jersey Royal toil doesn't stop there. "It's a full time job; we live, breathe, eat and sleep the Jersey Royal potato and we're involved from the chitting to the packing. In October we take tractors and trailers down to the beach for seaweed, which we call vraic, to use on some of the land. It has good nutrients, helps with water retention on the sandier ground, and it adds to the taste. In January and February the seed is all hand planted out of traditional wooden boxes."
Matthew suspects he first started eating Jersey Royals early, just as his baby daughter has done. What's the best way to have them? "I just like a little bit of butter on mine, and sometimes fresh mint. You mustn't cook them too much, just boil them up and they should melt nicely in your mouth – if they're grown properly!" In honour of the season, we've also got a recipe for a rich Jersey Royal tartiflette. Thanks to Matthew and his fellow farmers, we know our Jersey Royals are grown properly.