Mouth-Watering Montezuma's Chocolate Counter Coming To Booths
Written on October 6th, 2020
---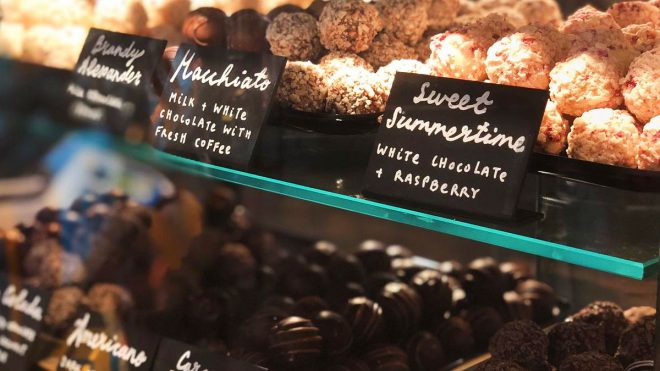 We've introduced a new bespoke counter into your Knutsford store, chock-full of Montezuma's extraordinary British chocolate. Find hand-finished truffles, giant chocolate buttons and several delicious varieties of their signature Choc O Block, all of which can be gift wrapped on request. The counter will be open 7am-7pm Monday to Saturday, and 10am-4pm on Sundays.
Our Booths Brand and Innovations Manager Matt Bruno said,
"Booths are delighted to be working alongside Montezuma's to bring a chocolate and truffle counter to Booths Knutsford where you can indulge in that mid-week treat or seek out that special gift."
Menu
Truffles: £6 per 100g
American Idol — Milk Chocolate with a soft salted caramel centre
Milking Maid — Peruvian Milk Chocolate with milk chocolate ganache centre
Eclipse — Dominican Dark Chocolate with Dark Chocolate ganache centre
Secret Squirrel — Milk chocolate, hazelnut praline and chopped hazelnuts
Strawberry Champers — White chocolate with strawberries & champagne
Sunrise — Dark chocolate with an orange centre
Moondance — Dark chocolate with an almond praline
Sweet Summertime — White chocolate & raspberry
Tiger Tiger — Dark chocolate with Madagascan vanilla centre
Giant Buttons: £2.70 per 100g
Choc O Block: £3.50 per 100g
Milk Choc Honeycomb
Pistachio & Cherry
Marzipan & Cherry
Coffee
Dark Chocolate & Brazil Nut
Truffle Gift Boxes
£15 for 16 Truffles
£22 for 25 Truffles
A Little More About Montezuma's
"We started Montezuma's, our little chocolate business, in 2000 with only a kitchen sink sized machine, huge enthusiasm, spades of naivety and most importantly, a broad ideal to bring chocolate innovation to a boring and staid British chocolate market. With the exception of that first machine, little has changed and the childish enthusiasm we shared exploring South America in 1999 largely wakes up with us every morning!

Being lawyers turned self-taught chocolate makers has meant steep learning curves and often re-inventing the wheel but everything we do is carried out with a passion for creating chocolate we want to eat in an environment we enjoy. What we certainly didn't train for or indeed expect in our wildest dreams was that a business started on a shoestring would become arguably Britain's most innovative chocolate brand with a reputation far bigger than our actual footprint!

For a long time, it has been our dream to become Britain's Greatest Little Chocolate company. By this we mean that everyone should be able to enjoy Montezuma's chocolate so we should be available wherever you feel the need for chocolate! But we also treasure our entrepreneurial, values-led approach to business, encompassing short lines of communication inside and outside the business, accountability, independence and family values. Just because we're growing doesn't mean we can't hold on to these, in reality it means we hold on to them even tighter! As part of our trading fairly policy we ensure that our staff, customers, communities we touch, and the environment are considered as part of our decision-making process."

Montezuma's Story
Tap here to view the Montezuma's video.