Make It, Fake It or Create It This #NationalCurryWeek
Written on October 12th, 2017
---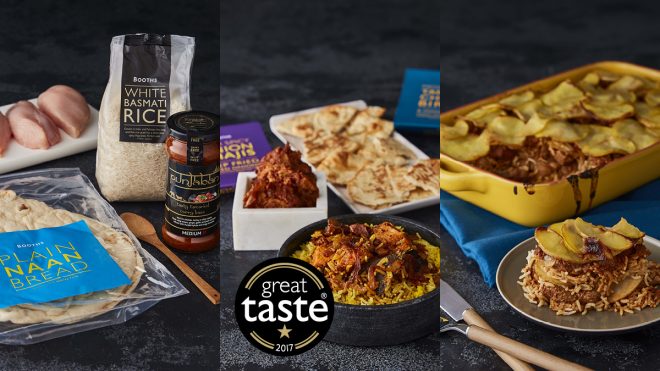 Looking for ways to celebrate #NationalCurryWeek? From a fakeaway to masterpiece of curry cookery, we've got you covered!
MAKE IT
Halfway between doing it yourself and ready made, make it super simple with a construction style curry. Grab a jar of sauce, plus complimentary meat, fish or veg and just follow the instructions on the jar. One of our current favourites is Punjabin Tamarind Curry Sauce. Full of flavour, this sweet and sour base contains fresh coriander and unique Punjabi spice blends which bring your taste buds to life. Free from: Sugar, Wheat, Dairy, Ghee, Gluten, Yeast, Artificial Colourings, Coconut, Nuts, Preservatives and Additives, Punjabin recommend enjoying with prawns or even a slice of cod – we like to pair it with chicken, rice and a plain naan.
FAKE IT
Try our Great Taste award winning Booths Tandoori Chicken Biryani, with a side of onion bhaji and naan – because you can't have a curry without a naan! Ready to pop straight into the oven, no work required.
CREATE IT
If you're feeling in the mood for a little bit of cooking, try our fabulous creation, a Lancashire Hotpot Biryani. We did cheat a little and use a ready made rogan josh, but you can make your own if you're feeling creative! Click here to go to the recipe.