Nigel's Tour O Booths and Tour 21 Training Update: March Edition
Written on March 24th, 2021
---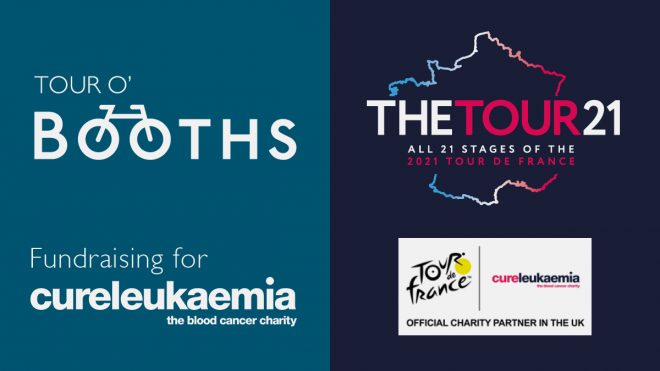 Our COO Nigel will be undertaking not one but two epic cycling challenges this year, to fundraise for Cure Leukaemia, The Blood Cancer Charity. With 2 months to go until the first one, he's given us a fascinating insight into his training so far.
March Training Update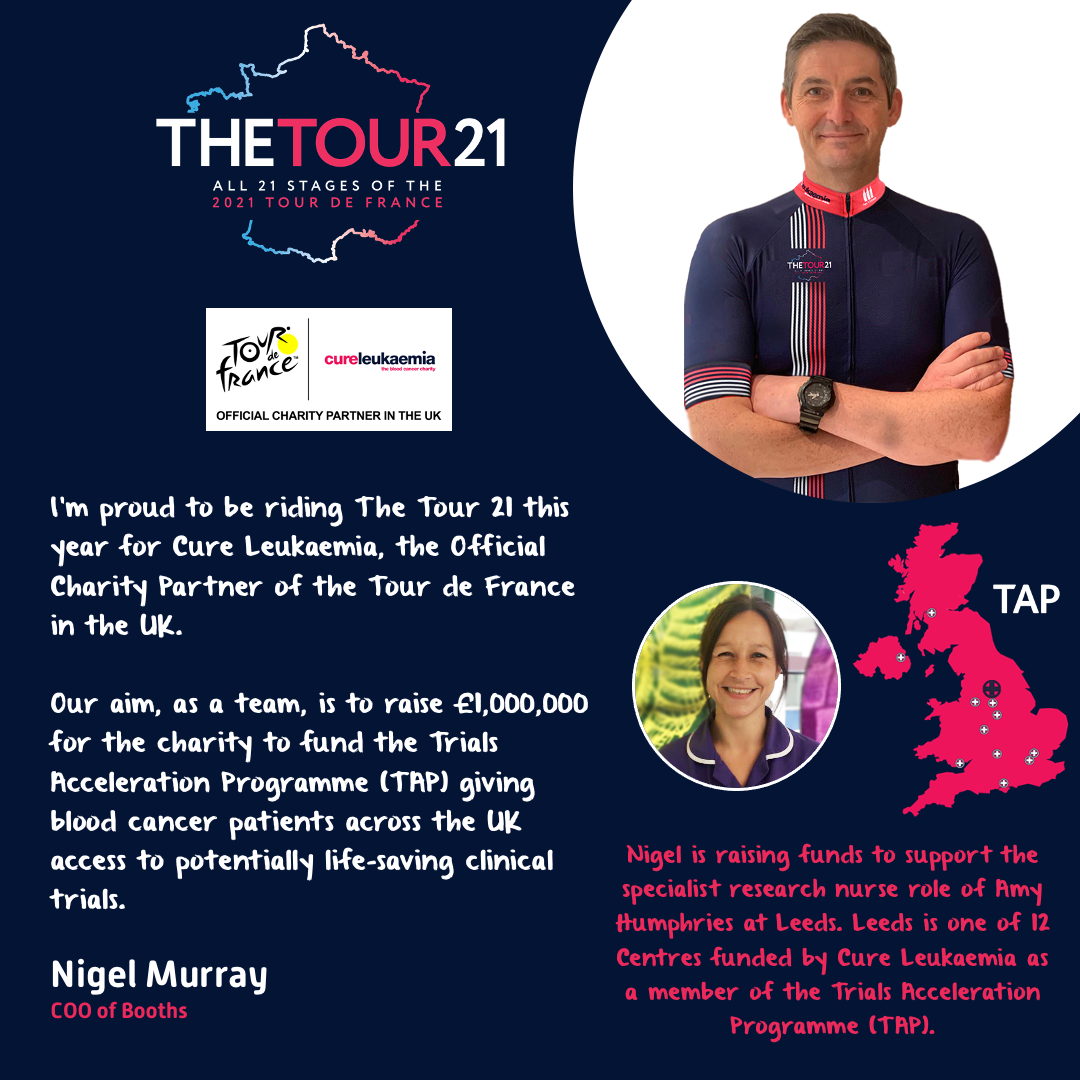 In October last year I, somewhat hesitantly, asked my wife if she would support me to take on a massive personal challenge, she agreed immediately and without concern for the challenges and pressure and sacrifices it would put on her and our family. I then spoke to our Chairman at Booths who again instantly agreed bemoaning the fact he wasn't 15 years younger as he would love to do it himself. The challenge is to ride the full Tour de France route in June/July 2021 – 3,400km and 40,000m of vertical ascent over 3 weeks, 1 week ahead of the Men's professional race, raising funds and awareness for the treatment of blood cancers.
Full of unbridled child-like excitement, I made contact with the Cure Leukaemia team who organise the event and they agreed I could take part, along with 24 other amateur cyclists including the inspirational Geoff Thomas, ex: international footballer, cancer survivor and veteran of 6 grand tour cycle rides all raising funds and awareness for Cure Leukaemia.
I can also confirm that I fully underestimated just how much would need to go into it, we are only in March and training is at only 30-40% intensity currently. I've found it isn't just about pedalling lots !! there's core and base strength development, proper rest and recovery, pre-bike on bike and post-bike fuelling and feeding, stretching techniques, training progression, gearing, bike position and, and, and ………. all these aspects need to be thought through and constantly reviewed. Add to that the fundraising and awareness campaigning, it really has become a labour of love and whilst I don't how I will feel crossing 'the line' in Paris, I'm fairly sure it will be emotional… that is with the big assumption that we actually make it to the start line in Brittany on 19th June.
So how's it going …….. ? well the days are getting longer, the nights lighter and we are less than a week away from the clocks going forward, which all means a little less time in the garage on the turbo trainer and a little more time outside which gets even better from the 29th March, as there can be even more time outside as lockdown eases again.
Training wise things are generally going well, I'm back on the bike after some knee troubles in January. Physio Nick is helping to keep me going and patience is a virtue in this respect, which I am generally a little short of. Weekends are arguably the hardest, surprisingly, as that's when it feels like it intrudes on family time. This weekend just gone meant I was out and not back until around noon on both days.
At the start in November, weighing in at 100 kg I set some power and weight reduction targets. It is fair to say I've slipped a little in these last few weeks but with a concerted effort should get myself back on track by Easter. It really isn't easy working at Booths and trying to lose weight !! This week alone will be a massive challenge as we have 3 days of socially distant reviews of the product samples for this year's Booths Christmas Book, the issue being the food doesn't need to be socially distanced.

Training intensity is picking up gradually, following the good advice to build steadily by 10% each week so that sees me covering around 250 km per week currently. Recovery after training sessions is massively important and we have 2 partners for The Tour '21 in CRX and Science in Sport who have provided compression wear and recovery drinks to consume, both clearly and obviously helping to reduce muscle fatigue.
One of the first things we decided to do at Booths was to dedicate the 2021 edition of the Tour O' Booths to supporting Cure Leukaemia. This is our second event of its kind and will take place on May 24th to the 28th (World Blood Cancer Day). We will visit all Booths sites and stores and also 2 of the Cancer treatment centres funded by the Cure Leukaemia at The Christie, Manchester and Jimmy's in Leeds. We aim to raise over £30,000 from this event.
For the Tour O' Booths our suppliers turned sponsors have been absolutely outstanding with 5 stage sponsors and 4 co-event sponsors. We will see around 50 people take part over the 5 days this year, with a new introduction of a run on the first stage for the 'non-cyclists' to get involved. The participants are made up of Booths colleagues from all parts of the business, our suppliers and also some customers. 9 riders will take on the full route, which is around 600 km over 5 days through some of the most beautiful (and challenging) scenery that The Lakes, Dales and Bowland has to offer.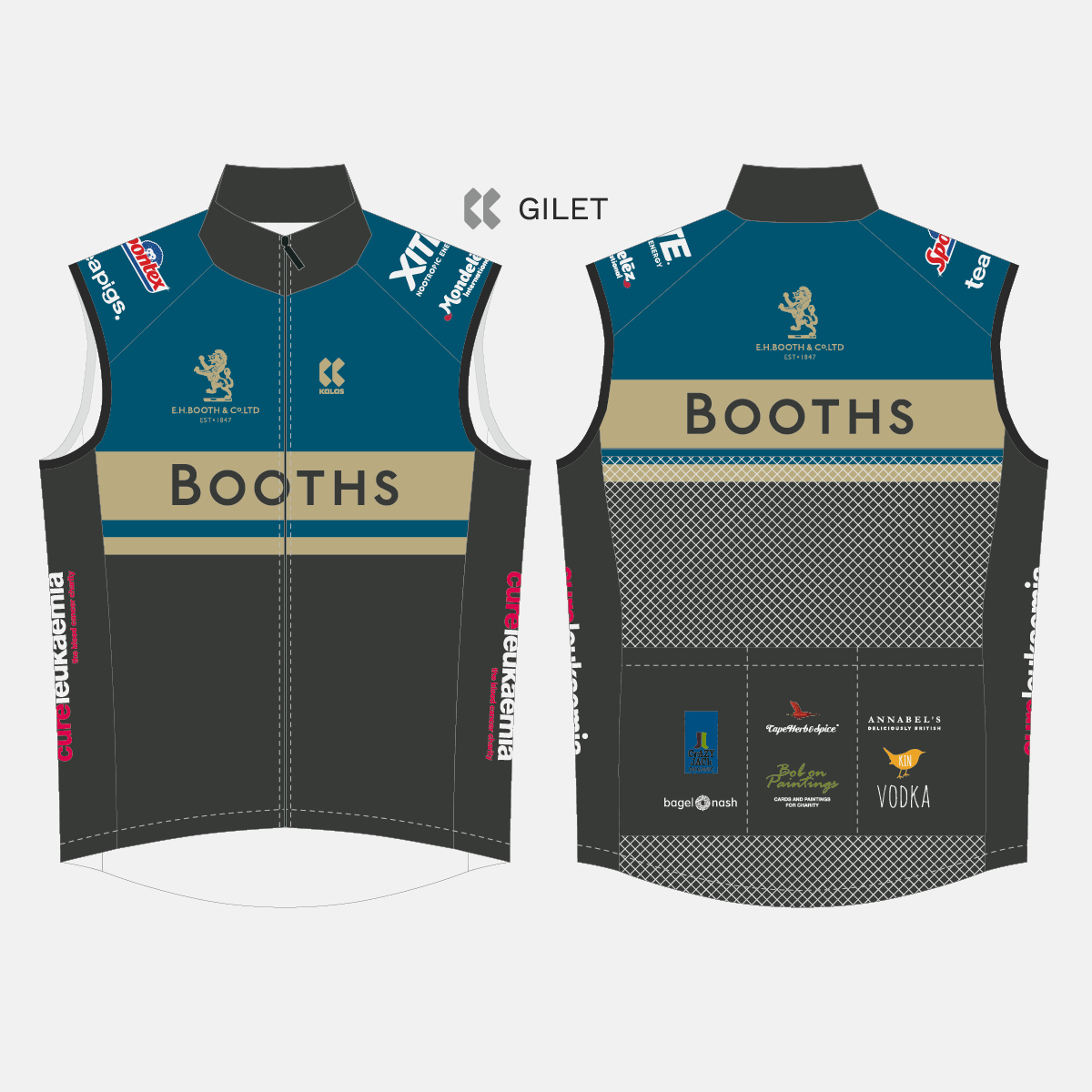 With support from Kalas (kit supplier to British Cycling amongst others) the Tour O' Booths kit has been ordered and we think it looks rather smart.
Personal donations keep on coming in thanks which is fantastic and I am hugely grateful for each and every one. Through a combination of the sponsors of the Tour O' Booths, the commitments to raise funds by the riders and our stores and sites, who will be going all out to get customers and colleagues involved, I have no doubt we will achieve our target. Add to that a range of products which we are selling through our stores and online, including charity cards by Bob On Paintings, I'm hopeful we will far exceed our initial expectations.
The monies raised go to Cure Leukaemia. A small charity who fund the specialist nurses in 12 cancer treatment centres around the country who apply new treatment trials to patients through their Trials Acceleration Programme – more information can be found by clicking here.
So that's it from me for the March update, with 2 months to go until we push peddle on the Tour O' Booths…I'll be back to update on further progress in April and in the meantime, we will introduce some of the riders who are taking part in the Booths event.
Thanks,
Nigel
Click here to visit Nigel's JustGiving page.
A huge thank you to our Tour O Booths brand sponsors: