The Big Booths Wine Event – Dinner Party Pleasers
Written on October 26th, 2013
---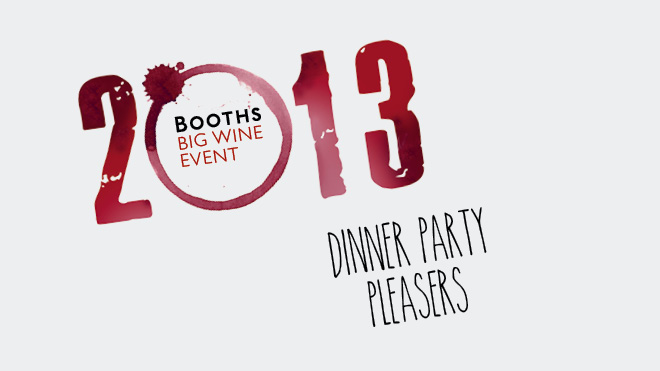 Finding a great wine and food match is part of the joy of opening a bottle, and sharing it with friends doubles the fun. As part of our Big Wine Event, which runs until November 5th, we've got so many dinner party pleaser's you'll run out of glasses. Whether you're asking a few friends round midweek, settling in at the weekend or cooking a show-stopper for a special occasion, our expert wine team have the perfect bottle.
Of course, there's no better way to get a (dinner) party started than with a few bubbles. And when you buy any six bottles of our wines during the Big Wine Event, we'll give you a free bottle of Prosecco Polloni DOC. This month's winefest is also a chance for us to offer our favourite wines on our best ever deal. Every time you buy six bottles we'll give you a 5% discount, and if you're a Booths cardholder, you'll get an extra 5% reward, too. It'll be stored on your card until the total reaches £5, when we'll send you a voucher to that value to spend in our stores.
Like many of the wines we're celebrating as part of the Big Wine Event, we have limited stock of some of our dinner party pleaser's, and when they're gone, they're gone. This is because we like to sell interesting wines which are often made by small producers, or released in limited numbers. For example, we started the month with just 168 bottles of zesty, full-bodied Franschhoek Vineyards Semillon, which our buyers love with chicken dishes, and 210 bottles of big, robust shiraz-dominated blend Henschke 'Keyneton Euphonium', which is ideal for bringing out at special occasions when a full-flavoured beef dish is also in the room. The team haven't forgotten the dessert and cheese, either; from tawny port to muscat, there's something sweet to conjure matches with. Just add friends – and don't forget to pick up your free bottle of bubbles.
View the wine newspaper here