The Booths Big Wine Event – Last few days – When they're gone, they're gone
Written on November 1st, 2013
---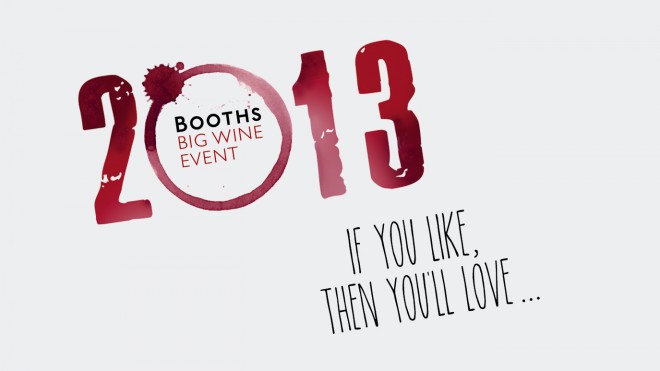 Our wine department is always ready to celebrate, and there have been plenty of glasses clinking during our Big Wine Event. The last day of our biggest ever wine festival is on November 5th, and as it draws to a close we're thinking about Christmas, New Year, and how to merge both with great wine on our best ever deal.
To keep a good party flowing, you'll need lively, drinkable wines that leave a bit in the kitty. Our selection of party wines for under a tenner will do just that: think versatile, well-crafted Booths Cava as people arrive, then stick with one producer for reds, whites and rosés that'll offer continuity throughout the evening. Made by the Hungarian winemakers who bring you the delicious Nagyréde estate wines, Spice Trail wines can cope with heartily-spiced party food, and have a touch of class for only £5.99, or look to Argentina for Las Moras's characterful Malbec and full-bodied Viognier. Keep an eye out, too, for last-minute reductions on strong Aussie offerings such as Robert Oatley's Signature and Finisterre ranges.
With plenty of toasts on the horizon, now's the time to stock up on bubbles. During the Big Wine Event, we'll give you a bottle of Prosecco Polloni every time you buy six bottles of wine or Champagne. You'll also get a 5% discount, and Booths cardholders will receive an extra 5% reward on top. This will be stored on your card and you can add to it every time you shop: once you reach £5 we'll send you a voucher to that value to spend in our stores. But the free Prosecco is only the tip of a delicious and festive iceberg. Our selection of sparkling wine includes a traditional method sparkling Burgundy with lots of creamy, baked apple flavour, and an unusual Portuguese tinto bruto which partners well with roast lamb. Chapel Down's Vintage Reserve Brut is, of course, the patriotic choice, but we have all France's prestigious marques too.
After a month spent celebrating exceptional wine at exceptional prices, there's only one thing left to say: cheers!
View our wine newspaper here