The Countdown has Begun – Booths Top Turkey Tips
Written on November 6th, 2015
---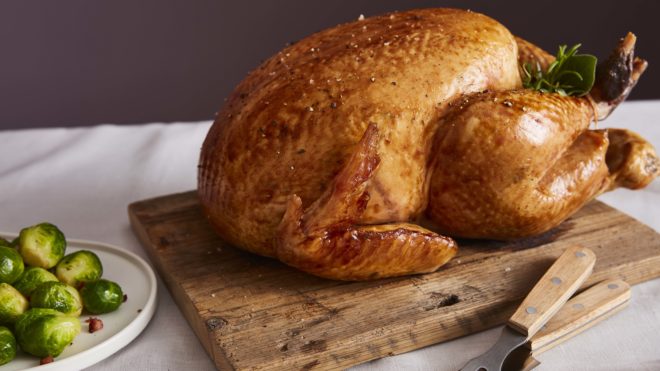 The countdown until Christmas Day has begun, and we pride ourselves on knowing that Christmas at Booths has delicious food and drink right at the heart of it. The star of the show for many is a turkey, and we've got some great tips from our meat buyer David Simons on how to choose the right bird for you – his personal favourite is the award winning Booths Bronze Turkey.
David joined Booths in 2014 as a Fresh Meat buyer moving from one of the country's largest grocery retailers. David has over 10 years' experience buying fresh meat and is currently responsible for the procurement of all Booths fresh meat and game.
Since joining Booths David has really engaged with suppliers and the farming community. As a result he has successfully launched Booths brand Turkeys, Booths sausages and transformed the Booths Ready to Cook range which has only intensified his passion for developing fine food.
Sourcing Christmas turkeys for our customers is quite a responsibility. Fortunately, working with trusted suppliers means I'm sure you'll be delighted by our range and quality whatever you choose.

I'm looking for slow-growing, flavoursome breeds which have been farmed as naturally as possible. The less intensively a turkey is raised, the better it's going to taste. A happy turkey is a tasty turkey.

All our birds are British and sourced from suppliers with the highest welfare standards, so you can buy from Booths with total confidence.
DAVID'S TOP TURKEY TIPS
How big should my turkey be?
As a rule of thumb, you should allow for up to 500g of turkey weight per person – so if you've got six people for Christmas, you need a 3kg bird – more, of course, if you want plenty of leftovers. Just make sure it will fit in your oven!
What kind of turkey should I choose?
It's down to your budget and your personal preference. Our bronze turkeys are game-hung for an old-fashioned, intense flavour, whereas our farm-assured white turkeys deliver plenty of pearly-white breast meat and consistent flavour. Organic free-range turkeys, supplied to us by Gressingham, are tasty and slow-growing. And if you want a turkey that's easy to cook and carve, or you're having a smaller feast, you could opt for a crown or joint instead of a whole bird.
How do I cook it?
Remove the turkey from the fridge and bring to room temperature. Put some chopped carrots, onions and a clove of garlic in a large roasting tin. Rub the bird with olive oil, season, then place on top of the veg. Wrap tin foil over the top of the bird and place in the oven, baste regularly. About 30 minutes before cooking is finished, remove the foil to allow the skin to get golden and crispy. Leave to rest for 30 minutes before carving.
What can I do with the leftovers?
From Christmas night sandwiches to Boxing Day buffets. This versatile meat can be chopped into risottos, pasta sauces and salads or transformed into creamy pies and sizzling curries. And don't forget to use the bones as a base for a delicious, warming wintery soup. Why not try our Hot and Sour Turkey Noodle Broth recipe?
Fresh whole turkeys and whole turkey crowns are available in all Booths stores from Thursday December 20th.