Vegan Products at Booths – World Vegan Month
Written on November 7th, 2018
---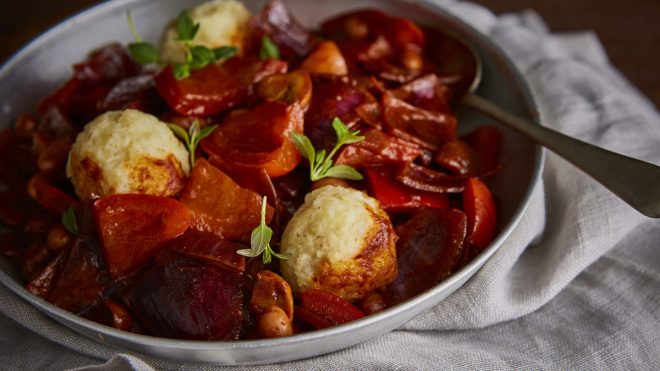 November is World Vegan Month, so we've pulled together a selection of delicious vegan products you can find in our stores now, from breakfast to treats and essentials.
Breakfast – Crumpets Anyone?
Did you know Warburton's crumpets (6 pack, 95p) are vegan? If you prefer cereal, classic Weetabix (12 pack £1.65) are also vegan.
Lunch – A Winter Warmer: The Sausage Sandwich

NEW to Booths, Heck 'The Beet Goes On' sausages (6 pack, £3) perfect for a sausage butty! Just sandwich between two slices of Hovis Wholemeal Medium, (800g £1.10). Feeling decadent? Follow it up with a Pudology Millionaires ' Pud (85g, £1.75). Pudology desserts are new to Booths, we have a selection of flavours all of which are gluten-free, dairy-free and suitable for vegans.
Tea – An Indulgent 'Fish' and Fizz Supper

Pair Quorn Fishless Fingers, (10 pack £2.50) with a selection of veggies and original Heinz Beans (415g, 85p) if you fancy. Followed by an indulgent dessert of Booja Booja Raspberry Ripple Ice-Cream (500ml, £6). For grown-ups only, perhaps a glass of Booths English Sparkling Wine, (75cl £21) to wash it down.
Tasty Treats

Lotus Biscuits, 250g £1 until 04/12/2018
McVities Rich Tea Biscuits 300g £1.35 or 2 for £2 until 01/01/2019
Walkers Prawn Cocktail crisps, 6 pack £1.70
Moo Free Original Chocolate, 100g, £2.85
NEW Booths Berry Burst 60% Dark Chocolate Bar, 100g £2
NEW Booths Coffee 60% Dark Chocolate Bar, 100g £2
Most people keen on vegan baking will know this tip! For a fabulous easy bake, mix Betty Crocker Devil's Food Cake Mix (425g, £2.60) with a 330ml can of Coca-Cola for a great vegan cake. Just whip up some vegan icing to complete your showstopper.
Store Cupboard Essentials

Hovis Wholemeal Medium, 800g £1.10
Alpro Almond Milk Unsweetened, 1ltr £1.75
Vitalite Spread, 500g £1.20
Violife Block Cheese, 200g £2.50
Frylight Sunflower Oil Spray, 190ml £2.45
Cover image: Hungarian Style Vegan Stew. Tap here for the recipe (opens in a new window).
Products vegan at time of writing. Prices correct at time of writing. Not all products are vegan society approved, so we do encourage you to double check before purchasing. We'd advise checking with your chosen store before travelling to ensure you're not disappointed. Tap the button below to find your nearest store and their contact details.