Discover 40 New Ways To Use Everyday Ingredients
Written on January 7th, 2021
---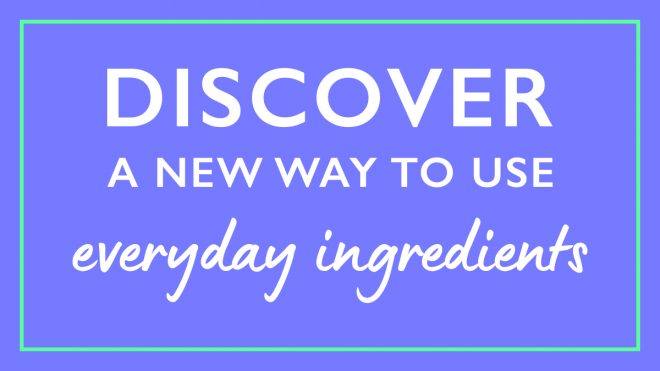 Discover something new this New Year! We've rounded up our top 40 ways to use (and use up!) everyday ingredients, to help you make the most of every last morsel:
If your honey has crystallised in the jar, sit the jar in a bowl of hot water and it will revert back to liquid.
Use up fresh herbs by liquidising them and freezing them in ice cube trays for power packed cubes of flavour. Find our method by clicking here.

Keep your Parmesan rinds to flavour risotto. Add them during the cooking process to release the flavour. Once the risotto is cooked, simply remove the rinds. Find our recipe for pea and Parmesan risotto by clicking here.
Freeze any leftover fruit that is going soft, then pop it into your smoothies for a cooling, vitamin packed addition. Find our recipe for a frozen smoothie bowl by clicking here.
Slice and dry any leftover raw mushrooms, finely grate, then use them to add flavour to soups, stews or sauces.
Frozen grapes make a delicious cooling fruity snack.
Use wraps as a quick pizza base, simply add passata, grated cheese and your favourite topping. Pop under the grill for a few minutes until the cheese has melted.
Freeze leftover natural yoghurt with mixed berries for a healthy 'ice cream' snack. Find our recipe for frozen yoghurt bark by clicking here.
Pour warm milk into your almost empty chocolate spread jar and shake for a quick and delicious hot chocolate.
Use any leftover rice, noodles or pasta to bulk up soups or casseroles.
Leftover coconut milk can be mixed with icing sugar to make a delicious cake drizzle.
Use leftover stale sponge cake as a base for trifle.
Use up thin slices of bread by brushing them with olive oil, sprinkle with dried herbs, then toast in the oven to make flavoured crackers. Find our method by clicking here.

Use lightly crushed cornflakes mixed with Parmesan to make a tasty coating for chicken.
Use leftover baked beans mixed with salsa for a tasty dip for nachos.
Use up a lettuce by cutting into wedges or thick slices, dress with olive oil, garlic, salt, and a few herbs and grill. Makes a great side dish.
Gently simmer flat cola with passata, onion granules and Worcestershire sauce to make a sticky bbq sauce.
Blend soy sauce with melted butter and pour onto plain popcorn for a super savoury snack.
Freeze leftover pesto in an ice cube tray to make instant flavoursome 'stock cubes'. Find our recipe for vegan pesto by clicking here.
Slice a broccoli stalk into fingers to use as crudités with your favourite dip.
Melt the dried, hardened edges of cheese to create a delicious dipping sauce.
Add leftover sour cream to scrambled eggs to make them a little more luxurious.
Spread marmalade over chicken or turkey to create a sweet glaze.
Roast tomatoes with garlic, mash together, then spread over toast.
Bulk out leftover soups and stews by adding a tin of your favourite beans, lentils or pulses the following day.
Use up any soft or unused tomatoes by creating your own 'oven-dried' tomatoes. Find our method by clicking here.

Finely slice strips of zest from citrus fruit and dry in a cool oven. Use them to flavour tea, stews or stir-fries.
Use up leftover lemons by slicing into wedges and freezing them to use as ice cubes in your drinks.
Use leftover stale biscuits to make tiffin. Find our recipe for chocolate tiffin race cars by clicking here.
Crush up crisps and sprinkle over the top of pasta bakes or lasagne with cheese to make a delicious topping.
Substitute butter for nut butter in cakes. It gives them a nutty taste and makes them a little denser in texture.
Use up the last spoonful of jam with plain yoghurt to create your own flavour.
Add a touch of jam to homemade vinaigrette dressing for a hint of sweetness.
Made too much pasta? Keep the leftovers and add into a frittata or omelette for tomorrow's lunch.
Add leftover curry paste to your scrambled eggs, roasted veggies or even add a touch to your bread mix.
Add frozen fruit to water for extra flavour.
Use natural yoghurt to make flatbreads or pizza bases. Simply mix with flour to make a dough.
Plain Greek yoghurt is the perfect base for healthier dips. Why not experiment with your choice of fresh herbs, seasonings or spices?
Blend broken chunks of biscuits into crumbs and mix with melted butter to create pie crusts.
Use beetroot to add an earthy depth and moisture to cakes and desserts. Find our recipe for beetroot brownies by clicking here.
What would you add to this list?