Our Top Christmas Dinner Leftover Recipe Ideas
Written on December 21st, 2021
---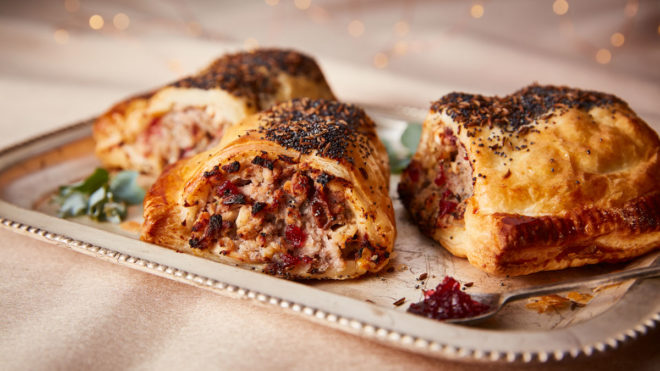 Are you looking for new and exciting ways to use up your Christmas dinner leftovers? We have plenty of tasty recipe ideas for you, from leftover turkey to what to do with your leftover Christmas pudding! Take a look at our leftovers recipes below.
It's important when making dishes with any leftovers to ensure you're doing so as safely as possible. If you are going to store leftover roast, cool it as quickly as possible (ideally within 90 minutes) cover it and place into the fridge. Always use your leftovers within two days of storage. Ensure you cook this recipe until it's steaming hot throughout and importantly, never reheat leftovers more than once.
You can find more information on food safety on the NHS website by clicking here (opens in a new window).
Turkey, Leek & Ham Leftovers Pot Pie
You can really make this recipe your own by adding all sorts of leftovers — make it into your own legendary Christmas Dinner Pie!
Turkey, Stuffing & Cranberry Rolls
This recipe for leftover turkey is great if you're out and about, as well as for the buffet! Take a few of these on your Boxing Day walk to keep you going.
Turkey Festive Filo Parcels
Wrap the whole leftover roast dinner up in filo pastry and add it to the buffet!
Mexican Style Turkey & Bean Soup
Give your leftover turkey a little bit of spice!

View the recipe by clicking here.
Turkey Quesadillas
A different way to enjoy leftover roast turkey.

View the recipe by clicking here.
Twixmas Cheesy Fondue
Use up what's left from the cheeseboard in our retro classic — cheese fondue!

View the recipe by clicking here.
Fire Cracker Rice Recipe — Vegetarian / Vegan friendly
Load up those leftover sprouts with an abundance of delicious flavours.

View the recipe by clicking here.
Loaded Leftover Roasties
A tasty addition to the boxing day buffet that's perfect for sharing, this idea for using up leftover roast potatoes is a winner.

View the recipe by clicking here.
Leftover Gammon & Pea Soup
Shared with us by our colleague Louise O'Hara, this a classic way to use up gammon or roast ham leftovers.
Leftover Gammon Ham and Potato Hash
A gorgeous brunch or supper dish that makes the most of leftover gammon.
Potato, Roast Pork and Apple Cakes
This recipe is perfect for using up any leftover roast pork — it'd make a wonderful addition to the Boxing Day buffet or a tasty brunch.
Boxing Day Soup
This recipe is ideal if you've heaps of leftover cooked vegetables to use up.
Caramelised Christmas Pudding Ice Cream Sandwiches
A delightfully different way to use up any leftover Christmas pudding.
Mince Pie Ice Cream Shortbread Sandwiches
If you've ever wondered what to with those leftover mince pies and biscuits, this is one to try!
Simnel Cake Tiffin
This recipe is for leftover Easter Simnel cake, but Christmas cake would work perfectly well in its place.