Enjoying a Classic British BBQ This Weekend?
Written on May 24th, 2017
---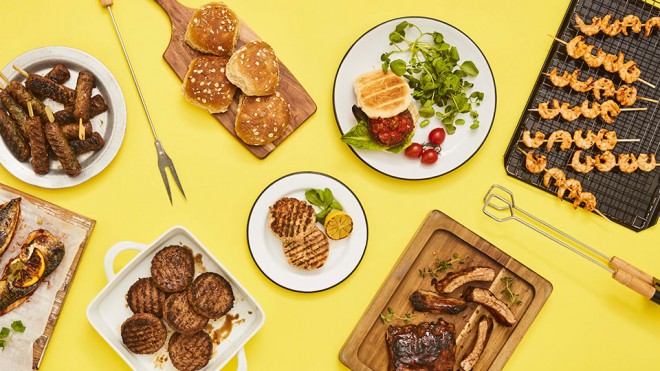 Summer is on it's way and if you're enjoying a BBQ this long weekend, you'll be pleased to hear our full ready-to-grill BBQ range is in store now! We've a variety of new additions to the range this year, from delicious lamb koftas with garlic and herbs, to Caribbean inspired chicken breasts in a jerk seasoning. Our fresh burgers come in a variety of flavours from cracked black pepper to chilli (including a gluten free option!), and if you're a fish lover we've a little something extra special this year – our NEW salmon and parsley burger with a spicy sriracha mayonnaise. We've variety of new skewers to try too, from wild garlic chicken to our choo chee king prawn skewers, king prawns in a fragrant thai red curry and coconut marinade on bamboo skewers. If you're a Booths cardholder you can also enjoy reduced prices on a selection of the newest products in the range until 21.06.17.
Our delectable flavoured sausage packs are on offer at 2 for £5, choose from a variety of flavours, from tomato & basil to chorizo or just plain pork!
Alternatively if you prefer making your own, you can enjoy 3 for £10 across a selection of fresh meat and fish from the cabinets (find the full list of included products here), or if you're unsure, why not visit the butcher's or fishmonger counter and get a little advice? If you do decide to make your BBQ goodies, we've a great selection of recipes to choose from, including burgers, sides, and veggie options:
For the meat eaters

Gourmet burger with Courgette Chips
Brazilian Beef Kebabs
Bloody Mary Rump Steak
For the fish lovers
Fish Kebabs with Chermoula Sauce
Asian Style Grilled Fish
Stuffed Sea Bass
For the vegetarians
Vegetable & Haloumi Skewers
Beetroot Burgers
Vegan Spicy Pinto Bean Burgers
Fabulous sides
Roasted Veg Salad with Puy Lentils
Shaved Asparagus Salad
Tomato & Jalapeno Burger Salsa
Coleslaw