Top Tips for the Perfect Roast
Written on April 7th, 2017
---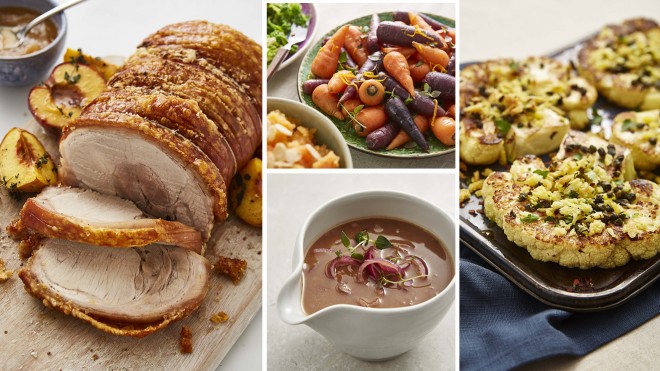 As Spring approaches we're thinking of all things roasts in preparation for all of the celebrations we enjoy in Spring, from Mother's Day to Easter. In the spirit of a mini roast revival, we've gone back to basics and pulled together our top tips and simple recipes to enable you to create the perfect roast meal – including some ideas to elevate your creations if you're feeling more adventurous and a vegetarian option that's not a nut roast. Whether you're a seasoned pro, just in need of a little guidance to try something new or even a complete beginner, there's something for you here. We hope to inspire you to enjoy roasts beyond Easter time and spend more time relaxing around the table with your friends and family.
Fun fact: did you know that the majority of fresh meat available at Booths is British? A lot of our vegetables are too, we always try and source locally or British where we can.
Top Tips:
Preparation is the key! Prep vegetables in advance, work out your cooking and roasting times. If you are serving a hot roast, why not prepare a simple cold starter and dessert in advance to take the pressure away and reduce how much oven space you need? Our coconut meringue wreath is an easy but impressive make-ahead dessert.
Change the way you serve roasts; use fresh flavours and accompany with salad, new potatoes and cold sides for a modern twist. Present on platters and dine al fresco for a relaxed feel – try our salsa verde dressing recipe in place of gravy, it's super easy.
Don't cook your meat straight from the fridge – remove it from the fridge 30 minutes before roasting to bring the temperature up a little so the meat cooks more evenly. If you are not confident cooking meat, a meat thermometer is your best friend to ensure you cook to rare, medium or well done. Always remember to rest your roast meat for between 10 and 20 minutes, depending on its size and how hungry you are!
Keep flavours simple when roasting classic lamb; garlic, rosemary and sea salt allow the flavours of the meat to shine through – why not try Herdwick Lamb from our butcher counter? If you've not cooked leg of lamb before, try our classic lamb leg recipe here. It's really easy to do!
Add a spoonful of redcurrant jelly to your gravy to give it a glossy finish with a hint of sweetness. Find our basic red onion gravy recipe here, perfect as an introduction if you've not made your own before!
Everyone loves roast potatoes – why not try roasting baby new potatoes? They cook quickly and give a Spring feel to your roast. Place on a baking tray, drizzle with olive oil, sea salt, pepper and fresh rosemary. Roast in the same oven as your meat for 25-30 minutes, or until golden brown and soft inside. If you're feeling really adventurous, try our recipe for hasselback roasties.
Roast your vegetables nestled around your roasting joint. This adds flavour all round and creates a great base for gravy for the more advanced roasters amongst us!
Buy pre-prepared products! From frozen Yorkshires to fresh prepped veg and small ready-to-cook joints (Booths have a delightful range in the chiller, with yummy things like beef with a red wine jus and stuffed chicken) and a pouch of fresh gravy it makes enjoying a roast really simple.
Recipes Enough to Serve 4
It's back to basics for us – our selection of roast recipes are all easy to do, with some optional twists in there if you're ready to elevate your dishes.
Mains
Perfect Roast Pork with Crackling
Classic Lamb Leg
Beef Stew – a classic beef dish, perfect for more economic cuts of beef
Cauliflower Steaks with Gremolata – a delicious veggie option that's not a nut roast!
Roast Beef with Pink Peppercorn Crust – really simple roast topside of beef with an easy to create crust.


Veggies
Veggies enough for Four – if you're a bit unsure of your veg this is perfect for you, as it goes back to basics, with optional twists thrown in if you're feeling fancy!
Hasselback Roast Potatoes
Vast Variety of Christmas Veggies – it might not be the festive period but proper mash and roasties are in season all year!
Sides
Stuffing cups – simple stuffing in edible Parma ham cups
Onion Gravy – nice and easy to do as an introduction to making your own gravy. Easily adjusted to make it vegetarian too!
Salsa Verde – the perfect dressing for al-fresco roasts in place of gravy.
Perfect Yorkshire Puds

Leftovers – well you never know, there may be some!
Pork, Potato & Apple Cakes
Lamb Tagine
The Ultimate Beef Butty

We'd love to see your roasts – why not share them with us @BoothsCountry on Facebook, Twitter or Instagram?